Sharing Economy Global Summit
Gig Economy Expert Marianne Olsson joins the steering committee for the Sharing Economy Global Summit.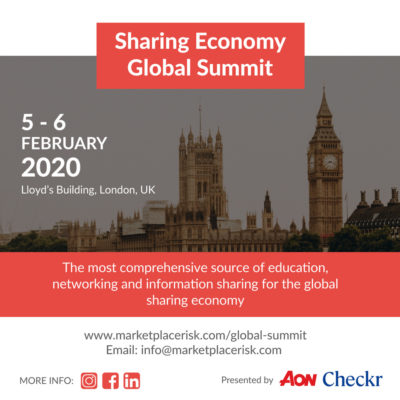 The next Sharing Economy Global Summit will be hosted February 5-6, 2020, at Lloyd's of London, the original insurance marketplace, and will welcome all stakeholders from the sharing economy ecosystem, including industry groups, startups, investors and government agencies and officials. Attendees from across the globe will have a unique opportunity to learn strategies and tactics tested and vetted through real-world startup applications and experiences.
Organized along three distinct tracks (property, services and transportation), the Sharing Economy Global Summit offers programming and resources from experts focused on trust and safety, digital identity, screening, payments and fraud prevention, data privacy and cybersecurity, compliance and regulatory, legal and insurance, product, technology and innovation. The content is designed to equip the sharing economy industry groups and startups with effective risk management and legal strategies that will enable them to launch, grow and, ultimately, exit successfully.
Because the Sharing Economy Global Summit is organized by sharing economy industry groups from around the world, the content is relevant, practical and useful for multinational startups. In addition, these sharing economy industry groups offer resources for startups by facilitating market expansion through transnational collaboration, including support navigating government agencies, local regulation, upcoming and pending legislation and socio-political environments.

The Steering Committee 
Our Steering Committee is made up of some of the biggest names in the sharing economy industry from around the world. Among them are founders, CEOs, experts and operators, representing startups, academia, vendors, service providers and investors. Their input and guidance are essential – and the caliber of the Steering Committee is what enables us to stay ahead of the game when it comes to delivering the most useful and relevant content and programming. And, they are at the forefront of the industry when it comes to identifying new trends.
Join the conference or speak at the event
Want to join the ranks of the more than 75 speakers delivering over 30 sessions at the 2020 Sharing Economy Global Summit? Click here to submit your proposal for a presentation, panel or workshop, and we will be in touch. Please note, we evaluate submissions on a rolling basis, so there is no deadline for submissions. But, we encourage you to submit your proposals as soon as possible for the greatest consideration.
Session: Leveraging Technology to Develop Gig Platforms
I will be moderator for following session: Leveraging Technology to Develop Gig Platforms. See you in Feb 5-6, 2020! More about the event!