Marianne Olsson interviewed in Italian Law & HR magazine
Advisor and expert Marianne Olsson is featured in LAW & HR magazine focusing on the gig economy in society. The interview has been translated into Italian LAW&HR 5_2021 GIG ECONOMY, but can be read in English as well.
Interview in English can be found below.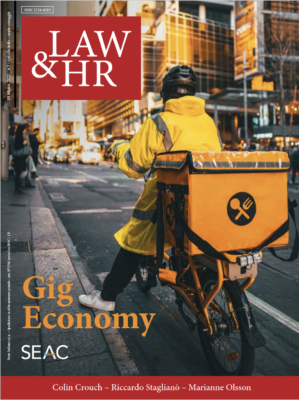 Can You give me your definition of gig economy? It is just a new label of a digitalised and global job market with more flexible solutions for hiring, staffing and ensuring a professional and timely competence and resource management in small and big organisations both in the public and private sector. It encompasses the whole value chain from operational to strategic work. It includes both highly skilled business professionals like consultants and freelancers that often invoice their hours like independent contractors ranging to platform-based gig work that often is referred to as a sharing economy service through gig apps for deliveries or ride sharing targeting consumers. The quickest growth of new organisation models can be found in startups that cannot afford to get locked into old labour legislation and have many needs that preferably can be performed by different resources, i.e. gig workers working maybe 25-50% per competence instead of squeezing different needs into one role on order to "fill up" a 100% position for permanent employment. Now a small growing company can divide a generalist role into several. This is also positive for the gig workers or consultants that can minimise their financial risks by having several clients and assignments alongside of each other. There is also a mutual benefit of competence sharing and transfer between customer projects and industries. Larger corporations have a long tradition of hiring or assigning consultants and temporary workers. It is common that these workers consist of approximately 20% of the company's work force. In new organisations it can be the opposite set up, with 80% flexible assignment based work. This can be seen as a rule in the new gig economy companies that we recognise as market places, gig platforms, financial services for freelancers, consultants and gig workers. Being a flat and slim organisation is part of their business strategy and they will mainly grow by a larger global customer base and not through hiring staff, like in traditional organisations.
How You explain the raise in short-term assignments and gig work? Many reasons and driving forces have pushed new and more flexible work models and how companies organise their work force as well as develop and offer new services for consumers. The big impact is of course the development of digital services like platforms and different apps that support both consumers world-wide and gig workers in particular. The cover epidemic has of course pushed gig work globally and remote work has become the new normal. This change has been fast forwarded by maybe 10 years or so. This shift has required a lot of trust in the work force from management. Recent studies show that employees have a higher efficiency working remote and I am sure we will see more insights about this in the year to come. Some things that are positive: shorter days thanks to no commute to the office. Also for gig workers they can work globally and nationally in their whole country. Before every position or assignment was geographically based and now we see ads that enable the people to work remote from anywhere. This opens many new possibilities for both the companies and the workers. Companies can now access competence anywhere and people can work remote across country boarders and time zones. That is truly exciting for all of us.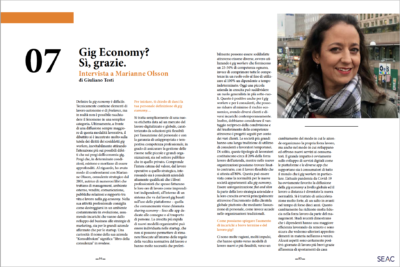 What are the driving forces to work for gig apps? Mostly to get an extra income. Most gig workers in the sharing economy that utilise the gig platform apps often do it as a part time job and is common among students. The reason this often so called unqualified work is attractive to younger people like students or others that are in between jobs or want a supplement income is mainly that you can get started and receive gigs and assignments without a personal network. It is positive to take on work on a regular basis through the gig apps, since you will receive more ratings based on your performance and how you act, communicate and present yourself. The more ratings you get, the better the accuracy becomes about you and your performance as a gig worker. This helps build your online brand regardless of what kind of gig work you do. Does not matter isf you are a remote worker that codes in java or offers copywriting services or if you drive an uber, deliver food or parcels. Potential clients or taskmasters will see your personal ratings and if you do well you will automatically get re-assigned for more gigs.
What are the pros and cons of being a gig worker? This is a big question and it depends on your gig persona, i.e. who you are and why you are a gig worker. If gig work is a supplement income I guess the money can be seen as a nice bonus, since it is not your primary income. If it is your primary source of payment or income you need to have an annual plan in order to schedule enough work that meets your financial needs. This is evident for all kinds of gig workers – regardless of if you are a management or technical consultant or working with deliveries for an app. Work needs to be planned and you need to be active to continue to build your personal brand online. This is both in the apps and on other platforms. Consultants and freelancers in Europe often share their service offering on Linkedin for example, where they can be found by potential clients and taks masters in search for their specific competence.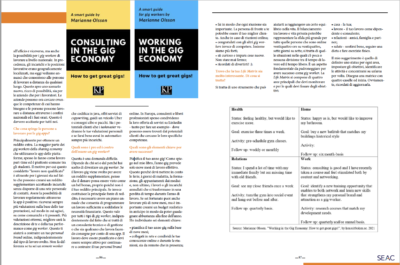 What are the key elements to follow to be successful as a gig worker? Plan your gig year! "Why is the gig year only 9 months of actual work? Well, you need to count vacation time, sick days, training, doctors' appointments, and not least cancelled gigs or assignments that become a loss in your gig year. If you are lucky you can work more than nine month, but it is important to make a realistic budget in advance so that you make enough money at the end of the year.
Plan your 9-month gig year!
Network and share your knowledge online and in meetings – digital or IRL.
Make every meeting count. The person in front of you could be your best customer. This can be online too.
Compliment instead of compete with other gig workers. We are stronger together.
Be curios and learn new things – never stand still.
Remember to have fun too! 🙂
I found your Life Matrix very interesting. What is it about? It is about achieving a balance in life. Work-life balance might be the biggest challenge when we are online 24/7 and there is little or no division between work time and your free time. This is crucial to master in order to succeed as a gig worker. There are four main areas that you need to monitor and set goals for:
Home – your home base
Work – your work as an employee or consultant
Relations – friends, family and your partner
Health – feel good, diet and exercise.
I suggest you define a status for each area, set goals and identify activities and focus. Source: Marianne Olsson. "Working in the Gig Economy: How to get great gigs!", by konsultboken.se. 2021.). life matrix_2_empty life matrix_1
And what about the ten key success factors? Well, regardless of what line of work you are in I have identified key success factors for freelancing gig workers and consultants: they are as follows and you can rate yourself against them.
Health Status: Feeling healthy, but would like to exercise more. Goal: Exercise three times a week. Activity: Pre-schedule gym classes. Follow up: weekly or monthly
Home Status: Happy as is, but would like to improve my bathroom. Goal: Buy a new bathtub that matches my buildings historical style. Activity: Follow up: 6 month-basis
Relations Status: I spend a lot of time with my immediate family but am missing time with old friends.Goal: See my close friends once a week Activity: Turn the gym into a social event and hang out before and after. Follow up: quarterly basis
Work Status: Consulting is good and I have recently taken a course and feel stimulated both by content and networking. Goal: Identify a new training opportunity that enables to both network and learn new skills that strengthens my personal brand and attraction as a gig worker. Activity: Research courses that match my development needs. Follow up: quarterly and/or annual basis
Top 10 key success factors for gig workers Become your best version of yourself by always honing your skills.
Ability to build trust
Ability to communicate
Ability to listen
Problem solving ability
Self-management
Social ability
Experience
Ability to change
Eager to learn & develop
Assertiveness – good confidence
Source: Marianne Olsson. "Working in the Gig Economy: How to get great gigs!", by konsultboken.se. 2021.
Read more about gig work in Marianne Olsson's books on Amazon:
About Marianne Olsson
Marianne has worked as a strategic advisor in her own company since 2001 and celebrates 20 years of consulting. Since then she has written numerous management books about navigating the new job market, external environment, sales, communication, PR and living and working as a freelancer or gig worker. Her latest books are titled "Working & Consulting in the Gig Economy: How to get great gigs!" (link to amazon in pdf?) In her consultancy she advises companies how to navigate a changing environment and takes on assignments ranging from business development to marketing strategy for both big established companies as well as for startups. Fun fact: her company " konsultboken.se" means the book of consulting in Swedish, by the way.