Expert Publishes Books for Gig Workers & Consultants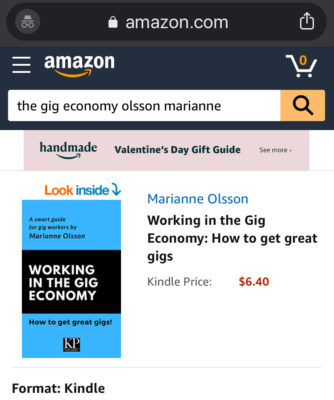 Consulting and Gig Economy expert Marianne Olsson has published two English titles targeting gig workers and consultants working in the gig economy. The new job market has become global and Marianne shares experience and expertise in navigating the gig economy. This is her 10th management book and she hopes to discuss the subject during this weeks Global Gig Conference "Sharing Economy Global Summit" when the industry meets in London Feb 4-6 2020.  
Get your gig!
With the books Working in the Gig Economy & Consulting in the Gig Economy Marianne shares her know-how to survive and exceed in the new job market. Some industry experts have pre-read the book and share their praise.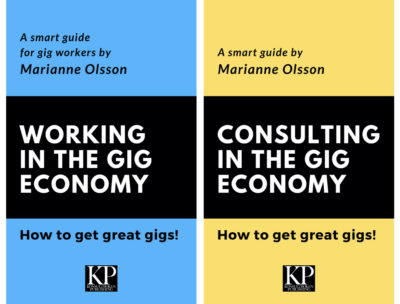 Praise about the books
"The gig economy presents new opportunities for consulting and Marianne, as a consultant herself, has not only recognised this but provided a comprehensive guide for those needing support to enter this brave new world."  Elle Tucker, Gangleader, Ganghut Media & Chair of the Sharing Economy Board

"Use Marianne Olsson's book "Working in the gig economy & how to get great gigs" as a roadmap to freedom, and take charge of your work life". Stefan Engeseth, Author, Speaker and Advisor, DetectiveMarketing.com ®™

"Considering gig work as an option involves weighing up lots of information. This book brings clarity to this type of work and helps you succeed in this growing economy". Juliet Eccleston, CEO and Founder, AnyGood? – personal recommendations for recruitment

"A very good book to read if you are contemplating becoming a freelancer. It has essential tips along with FAQs from industry experts, which the reader may find useful". Janthana Kaenprakhamroy, CEO, Tapoly – insurance for SME & freelancers

"The complete guide for both consultants and gig workers who want to be their own boss in the gig economy".

Claes Persson, Serial entrepreneur & Founder of Gee Finance – the good bank for gig workers globally
Consulting in the Gig Economy
This guide to consulting, gig work and freelancing is full of ways to get yourself ready for self-employment. It gives advice about setting up a company or not to, PR, how to write and organize your CV, ways to win work and importantly, how to get paid through smart admin and partner agreements. 
Gig workers will account for over 25 % of the working population by 2025 and the entire growth of the labour market has come from the gig economy according to a recent report. Everyone is a gig worker today – you just do not know about it yet.
With this e-book, I want to encourage companies, organizations and all freelancers also known as gig workers, to constantly develop and become better and more conscious in their professional role by learning and reflecting. To be successful regardless of role, it's important to think long-term, focus and constantly be prepared to work with one self. In this book, you will learn more about how to succeed in the gig economy and about the different types of roles you can have as a gig worker. For example, as an employee in a consulting company, self-employed, or administered by other companies that specialize in making it easier to thrive with assignments instead of drowning in administration.
You will learn to build your personal brand and to build trust in your network. We will also cover what you need to consider concerning assignment-based work and being a gig worker, freelancer, consultant, contractor etc in order to get great gigs!
In this book, the term "success factor" is used to describe the characteristics or skills that make you a better gig worker. They are important as assessment and follow up tools for you in your personal development now and moving forward. You can hone your strengths and improve on your weaknesses. 
Employers or purchasers need to constantly adjust to new market conditions in order to attract talents now and in the future. They need to constantly develop like the gig workers who must update their offer continuously as well. My main tip is to never stand still.
I hope to inspire and support consultants and gig workers globally and strengthen their position in the job market today. I also hope to discuss this subject during this week when I am participating in the global conference for our industry: "Sharing Economy Global Summit" i London February 4-6th 2020, says author Marianne Olsson.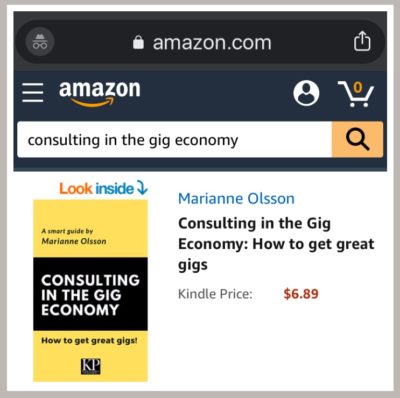 About the books
This is a series of books, and the first titles are:
Working in the Gig Economy: How to get great gigs
Consulting in the Gig Economy: How to get great gigs
Below you can find an overview of the content.
I. The Gig Economy
II. What is Gig Work?
III. The gig Year is 9 months
IV. Build Trust with your Personal Brand
V. Where to Find Gig Work
VI. Motivation & Personal Development
VII. Useful Self Organising Tools
VIII. Your Next Step
IX. Advice to Hiring Companies and Customers
About Marianne Olsson
Marianne is a gig economy expert, speaker, and author, and a Strategic Advisor with 25 years of marketing and business development experience in international environments. She has an MBA from Henley Business School in the UK, and her positions include management roles at Ericsson and Acando, as well as an advisor to startups and global companies with digital ventures. Her books "Consulting in the gig economy & How to get great gigs" aims to inspire more people to become gig workers and make the most of their lives working in the gig economy. She is also a board member the Committee for the Sharing Economy Global Summit.
Her book series about the Gig Economy are her first books that are published for a global audience after writing multiple management books in Swedish about sales, consulting, communication, branding, arranging meetings and naturally the job market we all know as the gig economy.
The Sharing Economy Global Summit
Marianne is also on the Steering Committee for the The Sharing Economy Global Summit (https://www.marketplacerisk.com/global-summit) that has its annual conference in London Februari 4-6th 2020 where Marianne also will moderate sessions about the development and of gig platforms.
Marianne Olsson har written 10 management books since 2006
Working in the gig economy & How to get great gigs, 2020 – English
Consulting in the gig economy & How to get great gigs, 2020 – English
Smart PR för författare, 2019 – Smart PR for authors
Smart PR för giggare och konsulter, 2019 – Smart PR for gig workers & consultants
Smart PR för startups, 2019 – Smart PR for startups
Moderatorns guide till lyckade möten och events, 2019 – The Moderators Guide to successful meetings & events
Gig-ekonomi för företag, 2019 – Gig Economy for companies
Idyllien – ett koncept för välgörenhet, 2019 – Idyllien: a concept for charity
Konsultboken – guiden till att lyckas, 2015, 2018, 2019 – The Book of Consulting
Framgångsrik Konsult, 2006 & 2019 – Successful Consulting