What is the Gig Economy? Where do I fit in? Will it affect me and the way I work?
The new books: Consulting in the Gig Economy & Working in the Gig Economy describe the new job market and figure out how you can adapt in order to be chosen for assignments and gig work as well as where to find it. Everyone is talking about the about it. Let's figure it out together.
A gig economy is an environment in which temporary positions are common and organisations contract with independent workers for short-term engagements defined by "whatis". The trend toward a gig economy has begun. A study by Intuit predicted that by 2020, 40 percent of American workers would be independent contractors. There are a number of forces behind the rise in short-term jobs. For one thing, in this digital age, the workforce is increasingly mobile and work can be done from anywhere, so that job and location are decoupled. That means that freelancers can select among temporary jobs and projects around the world, while employers can select the best individuals for specific projects from a larger pool than that available in any given area of competence or industry. New statistics from Forbes et al suggest that this group will grow globally and consists of 25% of the world population by 2025.
My take on the Gig Economy I want to encourage companies, organisations and all people (and future gig workers) to constantly develop and become better and more conscious in their professional role by learning and reflecting. To be successful in the gig economy, it's important to think and act long-term, focus and constantly be prepared to develop and work with one self. My aim is to inspire and share knowledge on how to succeed in the gig economy. I want to make society and its people aware of the different types gig-workers that already exist today in the workforce. For example, the mature market as an employee of major consulting companies or self-employed. Gig workers can also be administered by other gig-companies that ease their worries with salary admin, paying taxes and supplying the work through various gig portals. There are many groups in society that work as freelancers. I guess my advice can be applied by any gig worker, but my heart is with the consulting industry where I have applied my own gig economy since 2001.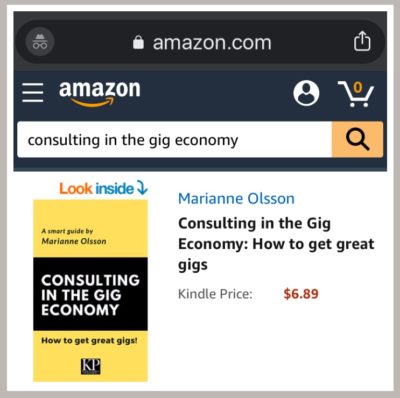 The consulting year is only 9 months I will share the best tips for building trust as well as your personal brand, what you need to consider in your role as a gig worker and not least how to get new assignments. Did you know that spring-time is the best time to get big consulting assignments? This is mostly due to annual budget processes although highly competent people are always in high demand all year round. Keep in mind when you ask for a salary, charge by the hour or send a quote for a project – you will at most work 9 out of 12 months of the year and what you make during that time needs to cover both the 12 months as well as build a buffer for financial security for a quarter.
I often talk about "key success factors" as a way to describe the characteristics or skills that make you a better consultant. These success factors are important tools for you in your personal development as a gig worker.
As an employer you need to be able to attract talent now and in the future. The companies also need to constantly evolve and must also update their offer continuously to maintain or increase attractiveness in the market place. My main tip is to never stand still.
Check out the books today on Amazon!
The book series is available on Amazon.com and has been welcomed with praise from the industry:
"As the gig economy is globally emerging and more people are starting to work as gig workers, I think Mariannes' book is an excellent way to get yourself started as a freelancer, or as we say, a gig worker. The book brings up how to tackle the possibilities like flexibility and being your own boss, as well as the challenges with having an unsure stream of money and making sure you get the gigs needed". Tobias Porserud, Director AppJobs Institute – sharing insights about the future of work and the gig economy based on unique data from over 1 million members from appjobs.com
"The gig economy presents new opportunities for consulting and Marianne, as a consultant herself, has not only recognised this but provided a comprehensive guide for those needing support to enter this brave new world."  Elle Tucker, Gangleader, Ganghut Media & Chair of the Sharing Economy Board
"Use Marianne Olsson's book "Working in the gig economy & how to get great gigs" as a roadmap to freedom, and take charge of your work life". Stefan Engeseth, Author, Speaker and Advisor, DetectiveMarketing.com ®™
"Considering gig work as an option involves weighing up lots of information. This book brings clarity to this type of work and helps you succeed in this growing economy". Juliet Eccleston, CEO and Founder, AnyGood? – personal recommendations for recruitment
"A very good book to read if you are contemplating becoming a freelancer. It has essential tips along with FAQs from industry experts, which the reader may find useful". Janthana Kaenprakhamroy, CEO, Tapoly – insurance for SME & freelancers
"The complete guide for both consultants and gig workers who want to be their own boss in the gig economy".
Claes Persson, Serial entrepreneur & Founder of Gee Finance – the good bank for gig workers globally
Recent Pod Casts and other interviews about the gig economy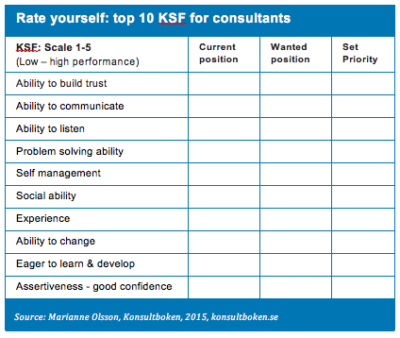 Welcome to my world. Cheers, Marianne Olsson – get to know me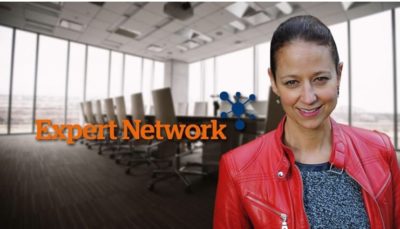 Rate yourself against my top 10 key success factors
I have identified top 10 key success factors for consultants.These can be applied to any work place or industry. Use the list to start taking an active role in building your personal brand and the way people experience your actions at work.
Special treat for Swedes:  the following Swedish articles have been published about the gig-economy, consulting, sales, communication and other challenges in our global and digital workplace. The most popular ones below:
Gig Economy Expert Marianne Olsson joins the steering committee for the Sharing Economy Global Summit.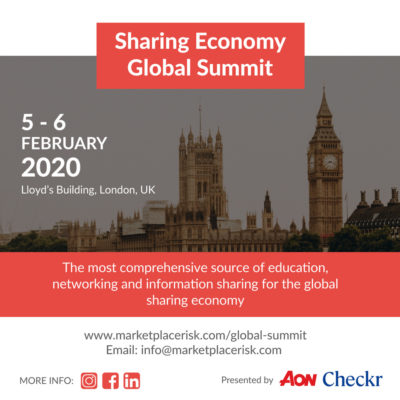 The next Sharing Economy Global Summit will be hosted in Sweden in the spring of 2021 and will welcome all stakeholders from the sharing economy ecosystem, including industry groups, startups, investors and government agencies and officials. Attendees from across the globe will have a unique opportunity to learn strategies and tactics tested and vetted through real-world startup applications and experiences.
Organised along three distinct tracks (property, services and transportation), the Sharing Economy Global Summit offers programming and resources from experts focused on trust and safety, digital identity, screening, payments and fraud prevention, data privacy and cybersecurity, compliance and regulatory, legal and insurance, product, technology and innovation. The content is designed to equip the sharing economy industry groups and startups with effective risk management and legal strategies that will enable them to launch, grow and, ultimately, exit successfully.
Because the Sharing Economy Global Summit is organized by sharing economy industry groups from around the world, the content is relevant, practical and useful for multinational startups. In addition, these sharing economy industry groups offer resources for startups by facilitating market expansion through transnational collaboration, including support navigating government agencies, local regulation, upcoming and pending legislation and socio-political environments.

The Steering Committee 
Our Steering Committee is made up of some of the biggest names in the sharing economy industry from around the world. Among them are founders, CEOs, experts and operators, representing startups, academia, vendors, service providers and investors. Their input and guidance are essential – and the caliber of the Steering Committee is what enables us to stay ahead of the game when it comes to delivering the most useful and relevant content and programming. And, they are at the forefront of the industry when it comes to identifying new trends.
Upcoming Events: Save the Date!
We are excited to announce the dates of our upcoming hybrid events – each event will offer in-person and virtual participation options:
Sharing Economy Nordic Summit, May 25-26, Gee Group, Stockholm, Sweden
Marketplace Risk Management Conference, September, San Francisco, CA
Sharing Economy Global Summit, November 10-11, Lloyd's, London, UK
If you or your company are interested in speaking and/or sponsoring any of our upcoming events, be sure to email us at info@marketplacerisk.com for more information.
Master Classes from Market Place risk
Exciting news about Market Place Risk's Masters Program! I am sharing insights and knowledge about the Gig Economy and Gig Platforms at Market Place Risk with Director Tobias Porserud from the AppJobs Institute starting in May 2020. So much fun and I got to introduce this Master Class and got to ask Tobias several questions after his presentation of gig worker data and insights.
Topics:
Technology is decreasing transaction costs, leading to:
– Companies having access to all workers
– Workers having access to all work
– The optimal size of a company is shrinking
COVID-19 magnifies challenges and opportunities leading to:
– Increasing unemployment
– Companies seeks low risk supply
– People seeks economic opportunity in the gig economy
Link to session:
Published May 25th. Sign up here: https://register.gotowebinar.com/register/6951396591330669069
Are you interested in more publications by me? Please browse this site or visit my linkedin-profile
Listen to Gig Expert Marianne Olsson on the Gigapod about Gig work in time of Corona.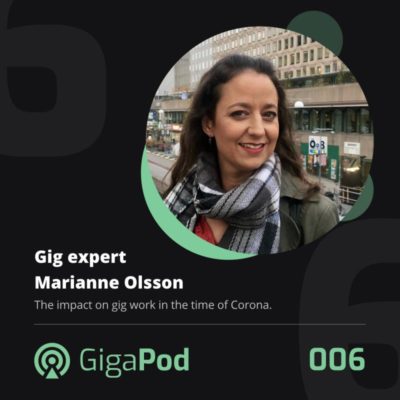 Marianne Olsson, Gig expert and Strategic Advisor, shares her thoughts on the impact of the Corona virus on gig work and the potential opportunities that can result as part of the upheaval.
She also talks about her perspective on the future of work and how all workers could be seen as gig workers.
If you're not familiar with Marianne yet, she is a published author with 10 books, mostly focusing within the Gig economy. Marianne describes herself as a Gig worker at heart and has run her own business since 2001.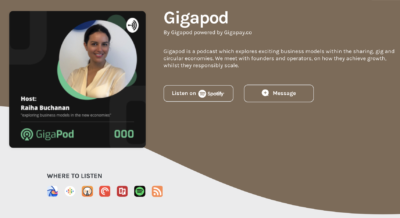 The Gigapod
By Gigapod powered by Gigapay.co
Gigapod is a podcast which explores exciting business models within the sharing, gig and circular economies. We meet with founders and operators, on how they achieve growth, whilst they responsibly scale.
Marianne Olsson in interviewed by Raiha Buchanan. She is the founder of the Gigapod and as well as the WIFTN Podcast – a Global Podcast for Women in Fintech.

Comments and Questions are most welcome.
Add me on LinkedIn http://se.linkedin.com/in/konsultboken or use my contact information below: