New Book Series about Gig & Consulting – Great Gigs!
The new job market is remote and the series "Great Gigs" guides gig workers and consultants both globally and in the Swedish job market.
Check out the books on Amazon today!
Everyone is a gig worker today – you just do not know about it yet. These guides to consulting, gig work and freelancing are full of ways to get yourself ready for self-employment. It gives advice about personal PR, how to write and organize your CV, ways to win work and importantly, how to get paid through smart admin and partner agreements. Gig workers will account for over 25 % of the working population by 2025 and the entire growth of the labour market has come from the gig economy according to a recent report.

The book series "Great Gigs" is tailored to a Global audience and describes both global and national conditions working, gigging and consulting. Two of the books are tailored to a global audience and the other two are about the Swedish for market for English speaking Swedes or for digital nomads around the globe that need to understand the landscape of the Swedish job market. Gigs are global and remote work is the new normal.
The book series is available on Amazon.com (kindle versions) & in Swedish e-stores (epub versions)and has been welcomed with praise from the industry:
"As the gig economy is globally emerging and more people are starting to work as gig workers, I think Mariannes' book is an excellent way to get yourself started as a freelancer, or as we say, a gig worker. The book brings up how to tackle the possibilities like flexibility and being your own boss, as well as the challenges with having an unsure stream of money and making sure you get the gigs needed". Tobias Porserud, Director AppJobs Institute – sharing insights about the future of work and the gig economy based on unique data from over 1 million members from appjobs.com
"The gig economy presents new opportunities for consulting and Marianne, as a consultant herself, has not only recognised this but provided a comprehensive guide for those needing support to enter this brave new world."  Elle Tucker, Gangleader, Ganghut Media & Chair of the Sharing Economy Board
"Use Marianne Olsson's book "Working in the gig economy & how to get great gigs" as a roadmap to freedom, and take charge of your work life". Stefan Engeseth, Author, Speaker and Advisor, DetectiveMarketing.com ®™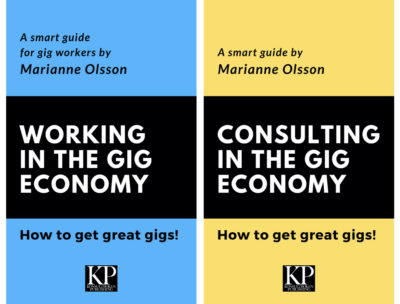 "Considering gig work as an option involves weighing up lots of information. This book brings clarity to this type of work and helps you succeed in this growing economy". Juliet Eccleston, CEO and Founder, AnyGood? – personal recommendations for recruitment
"A very good book to read if you are contemplating becoming a freelancer. It has essential tips along with FAQs from industry experts, which the reader may find useful". Janthana Kaenprakhamroy, CEO, Tapoly – insurance for SME & freelancers
"The complete guide for both consultants and gig workers who want to be their own boss in the gig economy".
Claes Persson, Serial entrepreneur & Founder of Gee Finance – the good bank for gig workers globally
My take on the Gig Economy I want to encourage companies, organisations and all people (and future gig workers) to constantly develop and become better and more conscious in their professional role by learning and reflecting. To be successful in the gig economy, it's important to think and act long-term, focus and constantly be prepared to develop and work with one self. My aim is to inspire and share knowledge on how to succeed in the gig economy. I want to make society and its people aware of the different types gig-workers that already exist today in the workforce. For example, the mature market as an employee of major consulting companies or self-employed. Gig workers can also be administered by other gig-companies that ease their worries with salary admin, paying taxes and supplying the work through various gig portals. There are many groups in society that work as freelancers. I guess my advice can be applied by any gig worker, but my heart is with the consulting industry where I have applied my own gig economy since 2001.
The gig or consulting year is only 9 months I will share the best tips for building trust as well as your personal brand, what you need to consider in your role as a gig worker and not least how to get new assignments. Did you know that spring-time is the best time to get big consulting assignments? This is mostly due to annual budget processes although highly competent people are always in high demand all year round. Keep in mind when you ask for a salary, charge by the hour or send a quote for a project – you will at most work 9 out of 12 months of the year and what you make during that time needs to cover both the 12 months as well as build a buffer for financial security for a quarter.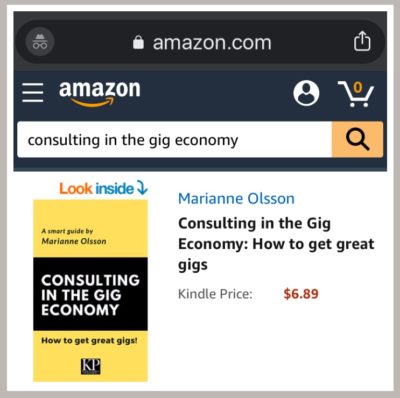 I often talk about "key success factors" as a way to describe the characteristics or skills that make you a better consultant. These success factors are important tools for you in your personal development as a gig worker.
As an employer you need to be able to attract talent now and in the future. The companies also need to constantly evolve and must also update their offer continuously to maintain or increase attractiveness in the market place. My main tip is to never stand still.
Links Amazon
Swedish Market (kindle format):
Consulting in the Gig Economy & How to get great gigs: about the Swedish Job Market
Working in the Gig Economy & How to get great gigs: about the Swedish Job Market
Global Editions (kindle format):
Consulting in the Gig Economy: How to get great gigs (Global Edition)
Working in the Gig Economy: How to get great gigs  (Global Edition)
Links Swedish e-stores
Swedish Books Stores (epub format):
Consulting in the Gig Economy & How to get great gigs: About the Swedish Job Market
Working in the Gig Economy & How to get great gigs: About the Swedish Job Market
Links to all publications